Walking as Art
The art of patients and clinicians
Amputee Art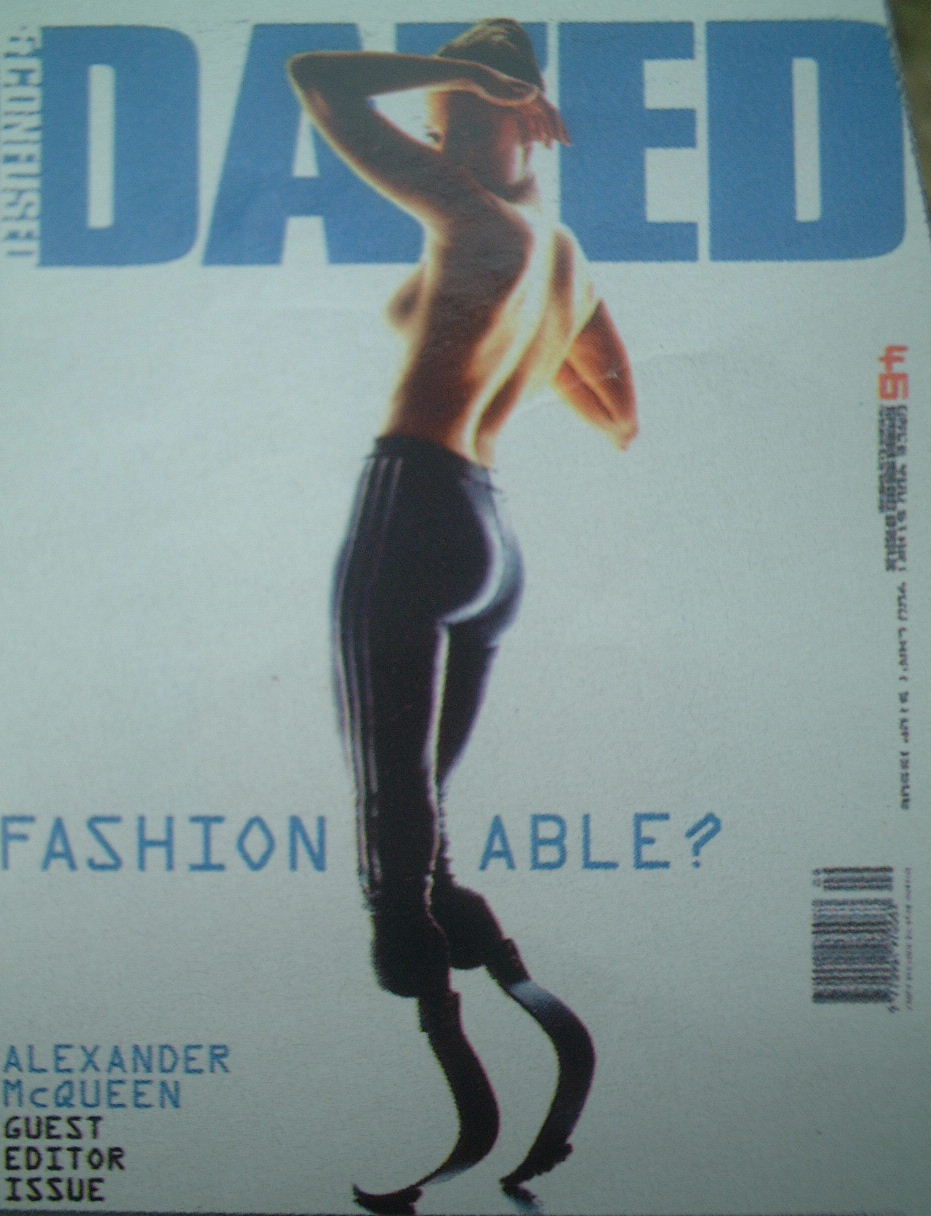 Bilateral amputee on the cover of Dazed and Confused magazine, September 1998.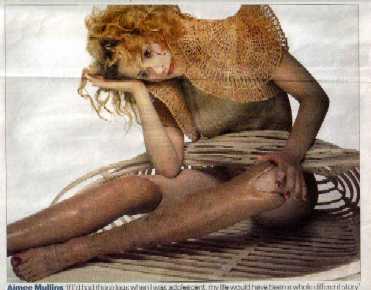 Aimee Mullins in The Guardian, August 29th 1998, and September issue of Dazed and Confused. It was part of a fashion shoot by photographer Nick Knight for Alexander McQueen, in which a range of disabled people appeared
as models. The large colour photo presents Mullins sittting on the floor, her head in her hand in a defeated or melancholic
position. She appears squeezed into the frame, contained by the photo's borders. The colours of the image are
brown and beige, earthy, taking up the blond of Mullins' wild hair and echoed in the make-up. Mullins is wearing
various stiff items of clothing, all of which extend out of the photo frame. The clothes are referenced in the
accompanying text, in accordance with the generic conventions of fashion photography. They comprise of: a
calico-coloured skirt skeleton reminiscent of whalebone crinoline underskirts (crinolin frame, for hire from
Angels and Bermans) and a textured close-fitting top (suede T-Shirt by Alexander McQueen) to which shoulder
ornaments are attached that look like wooden filigree Japanese or Spanish fans (wooden fan jacket, by
Givenchy Haute Couture). She is also wearing artificial 'mannequin' lower legs (not referenced as 'model's
own' in the picture blurb, but extensively discussed in the Press). The legs look old and stained, and while one
foot with coloured toenails is visible in the frame, the other reaches out to frame-left.
The image immediately connotes to me Romantic dolls and artificial ladies on the borderline of life and death –
Hoffmann's Olimpia or Eichendorff's marble Venus (see Hoffmann, 1990 and Eichendorff, 1986). In the Mullins photo, the drained colour scheme, bedraggled hair, the exotic connotations of the fans and the
historic allusions of the skirt all create this image of a doll, as does the visible seams between Mullins' real and
her artificial legs, which look like the joint of Barbie dolls with bendable knees. Even her 'real' flesh looks stiff:
her gaze is fixed, staring downwards, and both her hands, one underneath her head, one on her knee, are open
with fixed, spread fingers.
The cyborgian quality of Mullins's body as a mixture of the natural and the artificial is negated by the image of
the doll: here, her body is wholly artificial.
---
Heather Mills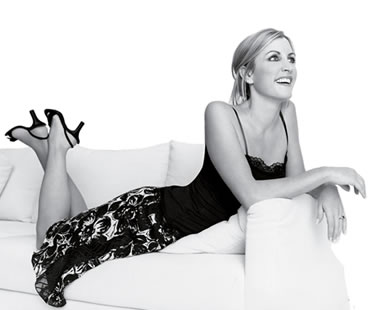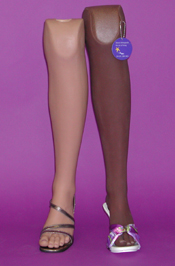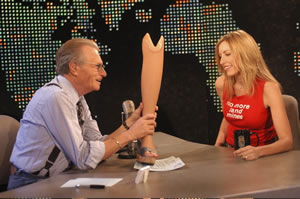 The Heather Mills-McCartney Cosmesis (HMMC) from Dorset Orthopaedic has a standard range of 25 colours.

In October 2002, Heather famously removed her artificial limb on Larry King Live after the veteran talk show host asked her about it. She said she did it to take the stigma away from disability and to help other amputees not be embarrassed by their disability. That particular show was nominated for an Emmy.

---
Bill Shannon, Crutchmaster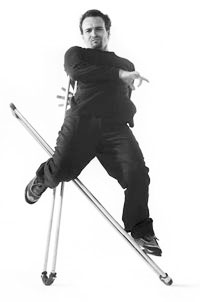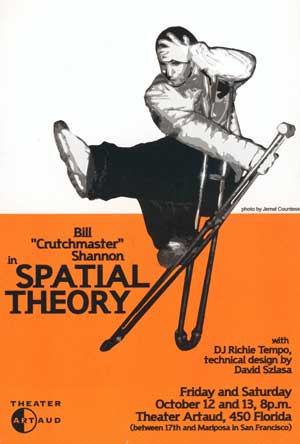 Diagnosed at the age of 5 with osteonecrosis (a bone disease which, for Shannon, means bilateral deterioration of tissue cells in the bones of hips), Shannon dances on crutches, and has developed an extraordinary vocabulary with impeccable timing, fluidity and body awareness. Spatial Theory includes a live narrated video segment that that examines his street performance explorations. With the combined forces of his legs and his crutches, Shannon is, simply put, a four-legged, hip-hop wonder.

"On a muggy summer afternoon, the physically disabled break-dancer-performance artist [Bill Shannon] follows in the foot-steps of one of his idols, Charlie Chaplin, by staging pratfalls in the busy street. Off to the side, a hidden assistant videotapes the action Candid Camera-style.
"As Shannon, a.k.a Crutchmaster, pops off the end of the rail, an accident seems inevitable. No one is there to catch him. But just in time, he manages to right himself in midair before landing gracefully on a pair of crutches, like an Olympic gymnast completing a perfect routine. Slack-jawed bystanders stare in amazement. A rotund middle-aged man in shirtsleeves makes the sign of the cross and leaves."
---
Franklin Delano Roosevelt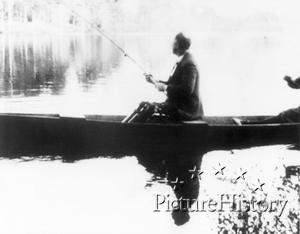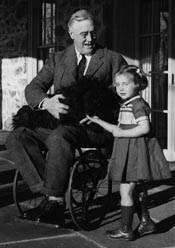 FDR fishing in a canoe with his leg braces visible.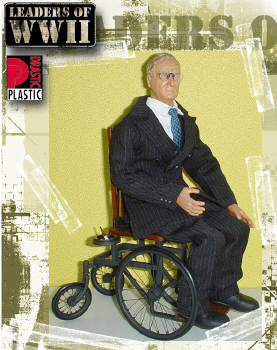 1/6 scale figure

---

Art allows me a sense of freedom, to express myself in a way my body cannot through movement.
Fred S. Etheridge

In April of 2000, a Call for Entries went out to artists worldwide, asking those who currently have or have ever experienced an orthopaedic condition to submit their work and tell their stories for a themed art exhibit, eMotion Pictures: An Exhibition of Orthopaedics in Art. An orthopaedic condition can be either a disease or condition that affects muscles, bones and/or joints. Arthritis, osteoporosis, scoliosis, spinal cord injury or other spine/back conditions, cerebral palsy, amputation, spina bifida, broken bones, and joint replacement are some examples of orthopaedic conditions.

A similar Call for Entries was issued to orthopaedic surgeons, seeking artwork that illustrates some aspect of the orthopaedic surgeon's feeling about the patient/physician partnership or making a difference in the lives of patients, why he/she became an orthopaedic surgeon, practicing the art of healing, frustration, outcomes, or compassion.
Loiz Arroyo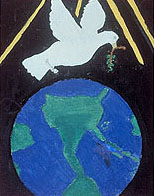 Hope, Freedom and Peace, pencil and acrylic paint, 11x14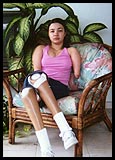 ---
Frederick M. Azar, M.D.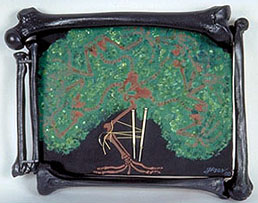 Crooked Bone Tree, acrylic on canvas, 12x16

The figure of the crooked trunk of a young tree first appeared in the 18th century in Book III of Nicholas Andry's L'orthopaedie. His intent was to demonstrate the conforming forces needed to correct the crooked leg of a child. It has since been adopted as the international icon for orthopaedic surgery. This is my interpretation of the symbol.
---
Jonathan Edward Barrington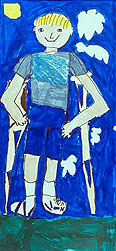 Summer Vacation Self Portrait1998, magic marker, 15x28

Seven-year old was playing barefoot football in his neighborhood in Alabama when he was tackled by his brother. Dr. Steven Barrington, an orthopaedic surgeon and Jonathan's father, took x-rays and discovered he had broken 3 bones in his foot. " I had to spend the rest of my summer on crutches. Even when our family went to the beach before school started,"
Steven A. Barrington, M.D.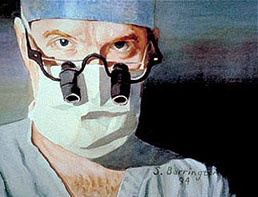 A Surgeon's Eyes, watercolor, 15x28

A Surgeon's Eyes is a self-portrait that focuses on the non-verbal communication between physician and patient. It depicts a surgeon, prepared for surgery, but focused on the viewer
---
Chin Jung (Lisa) Baw
Taiwan native Chin Jung (Lisa) Baw has been painting for a decade now, since she was five. Born with severe cerebral palsy and expected to never learn to walk or speak, her mother's encouragement helped her discover art as a means of therapy and communication. Her work was even chosen by IBM to grace their yearly calendar and Thanksgiving cards. "I firmly believe that art puts ability in disabilities."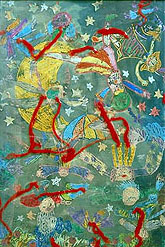 My World, watercolor and crayon, 121x91cm
I really hope people in my world could be that close to me. And I wish I would make lots of friends one day.
---
Joseph Benevenia, M.D. and Vincent Palma

Forward Motion, Mild Steel with Copper Patina, 96x48x12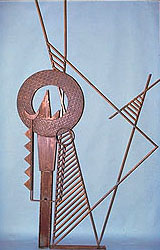 It was inspired by the drive and spirit that we all have to help improve patient care and fight musculoskeletal diseases. The piercing lines indicating the direction of movement illustrates advancement of science represented in art.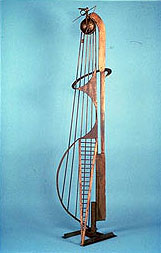 Harmony, mild steel with copper patina, 54x12x19
This piece was inspired by a patient Dr. Benevenia treated after her breast cancer spread to her bones. He performed a hip replacement to restore her ability to walk, and her gratitude was beyond measure. The lines of this sculpture are meant to represent an almost musical, soothing flow; a harmony with the human nature and spirit.
---
Lee Berger, MD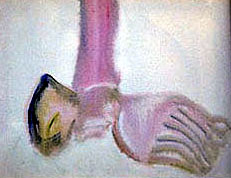 Foot, Acrylic on Canvas, 24x20

The foot is the foundation of the body. It represents the strength, balance, coordination and aesthetic beauty that make motion possible. The beauty of the foot is in its form and function; the beauty of this painting is that depicts the emotion of the foot in motion.

Clover's Hips, Acrylic on Canvas, 18x15
Mrs. Clover Gloriande dealt for many years with degenerative arthritis of both hips, and Dr. Berger performed total hip arthroplasties on her with excellent results.
---
Bill Bruckner
It is my wish to convey images of disabled people's ordinary dignity, humanity and self-respect.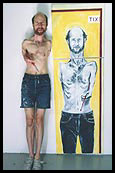 Self Portrait (Diptych), acrylic on canvas, 74x24
Being a person with a disability is an integral part of my life and identity. Without any emotional charge, I am looking steadily in a mirror. I am also gazing back at the viewer of the painting, mildly curious about you.
---
Janet L. Burgess
As a child with polio, her right hip failed to properly develop, causing her right leg and foot to atrophy making them much smaller than the left.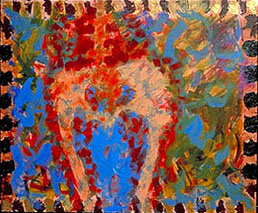 Structure, acrylic on canvas, 40x48
...optimistic, but a recognition of polio... Making this series of paintings was an emotional release. I am now more accepting of myself as a handicapped person
---
Gregory Burns
Paralyzed from the waist down with polio, Burns had four leg operations before age 13 and utilizes leg braces and forearm crutches, enabling him to walk. he has traveled the world extensively, incorporating his second passion -the water- into the hundreds of works of art he created during his journeys. "Water was the great equalizer," he explains. "Unencumbered by hardware I could play and compete in games with my friends.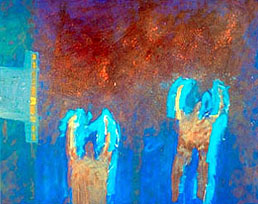 Duet, oil on linen, 54x68
...illustrates the feeling of reaching and stretching towards the wall or goal for which one is swimming or striving for.

---