Walking as Art
Famous people with walking disorders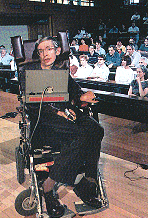 Born in 1942 in Oxford, Hawking was diagnosed with Amyotrophic Lateral Sclerosis (Motor Neurone Disease, or Lou Gerhig's disease) at age 20, and given two years to live. He had always been somewhat clumsy, but in his third year at Oxford university, this seemed to worsen, and he fell once or twice for no apparent reason.
Before the diagnosis, Hawking says he had been very bored with life. There had not seemed to be anything worth doing. But shortly after he came out of hospital, he dreamt that he was going to be executed. He suddenly realized that there were a lot of worthwhile things he could do if he were reprieved. Another dream that he had several times, was that he would sacrifice his life to save others. After all, if he were going to die anyway, it might as well do some good. But he didn't die. In fact, although there was a cloud hanging over his future, he found to his surprise, that he was enjoying life in the present more than before. He began to make progress with research, and got engaged to Jane Wilde, who he had met just about the time of his diagnosis. The engagement changed his life. It gave him something to live for. But it also meant that he had to get a job if they were to get married. He therefore applied for a research fellowship at Gonville and Caius (pronounced Keys) College, Cambridge. To his great surprise, he got a fellowship, and they were married a few months later.
He was lucky to have chosen to work in theoretical physics, because that was one of the few areas in which his condition would not be a serious handicap. And as his scientific reputation increased, his disability got worse. This meant that people were prepared to offer him a sequence of positions in which he only had to do research, without having to lecture.
Although bright, especially in mathematics, he had not worked very hard at university in Oxford (where he took up rowing). but now took a keen interest in cosmology. In a wheelchair by the early 1970s, he extended Einstein's theory of general relativity into subatomic quantum physics by imagining what would happen to particles on the edge of black holes. He concluded that what is now called "Hawking raiation" must be released, gradually wasting away the black hole. This was the first result unifying the large and small theories.
Up to 1974, he was able to feed himyself, and get in and out of bed. However, things were getting more difficult, so the Hawkings took to having one of his research students living with them in return for free accommodation, and a lot of attention, they helped him get up and go to bed. In 1980, this changed to a system of community and private nurses, who came in for an hour or two in the morning and evening. In 1985 he caught pneumonia and had to have a tracheostomy operation. After this, he had to have 24 hour nursing care. This was made possible by grants from several foundations.
Initially he wrote scientific papers by dictating to a secretary, and gave seminars through an interpreter. However, the tracheostomy operation removed his ability to speak altogether. For a time, the only way he could communicate was to spell out words letter by letter, by raising his eyebrows when someone pointed to the right letter on a spelling card. It is pretty difficult to carry on a conversation like that, let alone write a scientific paper. However, a computer expert in California, called Walt Woltosz, heard of his plight, he wrote a computer program called Equalizer. This allowed Hawking to select words from a series of menus on the screen, by pressing a switch in his hand. The program could also be controlled by a switch, operated by head or eye movement. When he has built up what he wants to say, he can send it to a speech synthesizer. At first, he just ran the Equalizer program on a desk top computer. However David Mason, of Cambridge Adaptive Communication, fitted a small portable computer and a Speech Plus speech synthesizer to the wheel chair. This system allowed him to communicate much better than he could before, up to 15 words a minute. He can either speak what he has written, or save it on disk, and can then print it out, or call it back, and speak it sentence by sentence. Using this system, he wrote A Brief History of Time, and dozens of scientific papers. He also given many scientific and popular talks. The only trouble is that the synthesizer has an American accent. The company is working on a British version.
The cause of ALS is not completely understood. Researchers and physicians suspect viruses, neurotoxins, heavy metals, DNA defects, immune system abnormalities, and enzyme abnormalities. There are three different kinds of ALS. The first is the most common and the least understood, it is called Sporadic ALS, which is the most widespread of all types of ALS. A lesser type of this diseas e is called Familial ALS, which is cause by genetic defect and finally there is Guamanian ALS. It is caused by a dietary neurotoxin found in the seed of the cycad Cyas cirinalis, a tropical plant found in Guam

---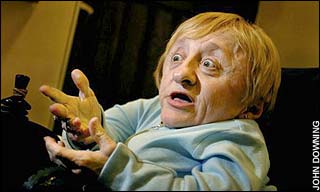 Hear her maiden speech to the House of Lords
Baroness Chapman was forced to give up paid employment after breaking a leg so badly that it did not heal. She now uses a wheelchair.
Nicky Chapman became the first person with a congenital disability to be appointed to the House of Lords under the People's Peers initiative when she took up her seat in October 2004. Her maiden speech was unforgettable, causing a storm in the Upper House as she condemned the Government's Mental Capacity Bill because "if this Bill had been passed 43 years ago, I would not be here".
Lady Chapman describes the House of Lords as the most egalitarian place she has ever worked in. "I didn't expect it to be this accessible. Everywhere else I have had to go in there and change attitudes. Here, people assume that because I am a peer, I must have done something to deserve it. Everyone has made me feel welcome." She is the only peer living on benefits (£128.42 per week income support).
It is difficult to imagine that when she was born with brittle bone disease, doctors feared that her disability would limit her existence to such a degree that her life would not be worth living. She is 2 feet 9" tall.
"When I was born, the medical people said I would be blind, I would be deaf, I would be unable to communicate and I would have no noticeable mental function. Forget it. My life was worth nothing," she said. She cast a look around her red-carpeted office, at the leather chairs emblazoned with the House of Lords portcullis, the piles of embossed stationery and her personal assistant organising her schedule, and added: "That is a little bit different from what I have managed to achieve and where I am today."
She spends three days a week in the Lords, then it is back to being Nicky Chapman, living in a bungalow on benefits and going to watch Leeds United at Elland Road on Saturdays.
"On the day of my induction, I was dressed up in the red ceremonial robes and my brother said `you look like something escaping from Santa's sack'. That made me laugh." And this time, I take my lead from Lady Chapman and allow myself to laugh, too.

---
Michael J Fox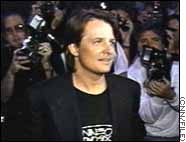 Actor Michael J. Fox has been battling Parkinson's disease since 1991, and underwent brain surgery in1998 to lessen the tremors caused by the illness.
Fox, who is married to actress Tracy Pollan and has three children, says the illness was diagnosed in 1991 after he noticed a "twitch" in a finger. Tests soon confirmed he was in the early stages of Parkinson's disease, according to the magazine. His doctor told People that Fox is now in the "late mild" stage of the disease.

---
Chick Webb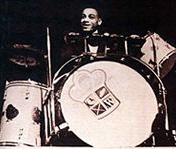 William Henry "Chick" Webb, despite being under five feet tall, was one of the giants of swing and taught us all a lesson about overcoming disabilities. He was born February 10, 1909 in Baltimore. At a young age, he contracted spinal tuberculosis that left him with a hunchback and little use of his legs. Doctors recommended he take up drumming as a remedy for stiff joints. From then on, he took to drumming. First on pots and pans and oil drums. After selling newspapers, he saved enough to buy a drum set, which used special custom-pedals, so that he could reach them, due to his small stature. He moved to New York at the age of 17 and started playing with Johnny Hodges, Benny Carter, and Duke Ellington.

In 1935, he hired 17 year old Ella Fitzgerald as vocalist. Shortly thereafter, he adopted the orphaned Fitzgerald. Together, they formed a powerful partnership and recorded over 60 songs in the next 3 years, including A Tisket, A-Tasket, which remained at the top of the charts for 17 weeks. After Webb died, Ella Fitzgerald took over the orchestra for two years, before they finally broke up.

By 1938, Webb's health began to fail him. Although his health declined, he continued to play, refusing to give up touring, so that his band could remain employed during the Great Depression, disregarding his own discomfort and fatigue, which often found him passing out from physical exhaustion after finishing sets. Finally, he had a major operation at Johns Hopkins Hospital in Baltimore in 1939 and died shortly thereafter. His last reported words were "I'm sorry, I've got to go"

---
Ian Dury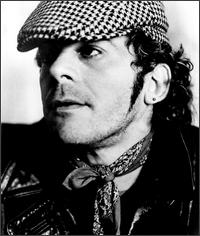 At the age of seven, Ian Dury was stricken with polio, resulting in weakness of his left arm and right leg.. After spending two years in hospital, he attended a school for the physically disabled. Following high school, he attended to the Royal College of Art, and after his graduation, he taught painting at the Canterbury Art College. In 1970, when he was 28 years old, Dury formed his first band, Kilburn & the High Roads. The Kilburns played simple,'50s rock & roll, occasionally making a detour into jazz. Over the next three years, they became a fixture on England's pub-rock circuit. By 1973, their following was large enough that Dury could quit his teaching job. Several British critics became dedicated fans, and one of them, Charlie Gillett, became their manager. Gillett helped the band sign to the Warner subsidiary Raft, and the group recorded an album for the label in 1974. Warner refused to release the album, and after some struggling, the Kilburns broke away from Raft and signed with the Pye subsidiary Dawn in 1975. Dawn released Handsome in 1975, but by that point, the pub-rock scene was in decline, and the album was ignored. Kilburn & the High Roads disbanded by the end of the year. By 1977, Dury had secured a contract with Stiff Records, and he recorded his debut with Chaz Jankel and a variety of pub-rock veterans -- including former Kilburn Davey Payne -- and session musicians.

The anthemic U.K. No. 1 single "Hit Me With Your Rhythm Stick" became an enduring classic of the new wave era. American record companies were suddenly very interested in him. Arista won the rights to distribute Dury's Stiff recordings in the U.S., but despite overwhelmingly positive reviews, New Boots and Panties!! stiffed in America, and the label instantly dropped him.In 1981, he signed with Polydor Records and flew with Jankel to the Bahamas to record with reggae superstars Sly Dunbar and Robbie Shakespeare. The resulting album, Lord Upminster, received mixed reviews and poor sales upon its 1981 release; the album was notable for the inclusion of the single "Spasticus Autisticus," a song Dury wrote for the United Nations Year of the Disabled, but which was rejected.

He appeared in several plays and television shows, as well as the Peter Greenaway film The Cook, the Thief, His Wife and Her Lover and Roman Polanski's movie Pirates. He also began to write jingles for British commercials. In 1989, he wrote the musical Apples with Mickey Gallagher, and he also appeared in the stage production of the play. Dury returned to recording in 1992 with The Bus Driver's Prayer and Other Stories. In 1998, he became a goodwill ambassador for UNICEF, publicizing and taking part in a polio immunization program in Sri Lanka.

In May 1998, Dury announced that he had be diagnosed with colon cancer in 1995 and that the disease had spread to his liver. He decided to release the information the weekend of his 56th birthday, in hopes of offering encouragement for others battling the disease. For the next year, he battled the disease while keeping a public profile -- in the fall of 1999, he was inducted into Q magazine's songwriting hall of fame, and he appeared at the ceremony. Sadly, it was his last public appearance. He died on March 27, 2000.

Madness singer Suggs hailed Dury as ``more of a poet than a rock 'n' roll artist'' and credited him with opening minds to ``all the possibilities for people that didn't look like rock stars.''

---
Frida Kahlo (1907-1954)
Feet, what do I need you for? I have wings to fly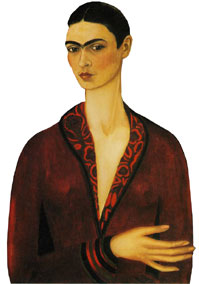 Kahlo was born in Mexico City in 1907, the third daughter of Guillermo and Matilda Kahlo. Her father was a photographer of Hungarian Jewish descent, who had been born in Germany; her mother was Spanish and Native American. Her life was to be a long series of physical traumas, and the first of these came early. At the age of six she was stricken with polio, which left her with a limp. In childhood, she was nevertheless a fearless tomboy, and this made Frida her father's favourite. He had advanced ideas about her education, and in 1922 she entered the Preparatoria (National Preparatory School), the most prestigious educational institution in Mexico, which had only just begun to admit girls. She was one of only thirty-five girls out of two thousand students.
In 1925, Kahlo suffered the serious accident which was to set the pattern for much of the rest of her life. She was travelling in a bus which collided with a tramcar, and suffered serious injuries to her right leg and pelvis. The accident made it impossible for her to have children, though it was to be many years before she accepted this. It also meant that she faced a life-long battle against pain. In 1926, during her convalescence, she painted her first self-portrait, the beginning of a long series in which she charted the events of her life and her emotional reactions to them.
Her health, never at any time robust, grew visibly worse from about 1944 onwards, and Kahlo underwent the first many operations on her spine and her crippled foot. Authorities on her life and work have questioned whether all these operations were really necessary, or whether they were in fact a way of holding Rivera's attention in the face of his numerous affairs with other women. In Kahlo's case, her physical and psychological sufferings were always linked. in early 1950, her physical state reached a crisis, and she had to go into hospital in Mexico City, where she remained for a year.
While the 1940s had seen her produce some of her finest work, her paintings now became more clumsy and chaotic, thanks to the joint effects of pain, drugs and drink. Despite this, in 1954 she was offered her first solo show in Mexico itself - which was to be the only such show held in her own lifetime. It took place at the fashionable Galeria de Arte Contemporaneo in the Zona Rosa of Mexico City. At first it seemed that Kahlo would be too ill to attend, but she sent her richly decorated fourposter bed ahead of her, arrived by ambulance, and was carried into the gallery on a stretcher. The private view was a triumphal occasion.
In the same year, Kahlo, threatened by gangrene, had her right leg amputated below the knee. It was a tremendous blow to someone who had invested so much in the celebration of her own self image. She learned to walk again with an artificial limb, and even (briefly and with the help of pain-killing drugs) danced at celebrations with friends. But the end was close. In July 1954, she made her last public appearance, when she participated in a Communist demonstration against the overthrow of the left-wing Guatemalan president Jacobo Arbenz. Soon afterwards, she died in her sleep, apparently as the result of an embolism, though there was a suspicion among those close to her that she had found a way to commit suicide. Her last diary entry read: 'I hope the end is joyful - and I hope never to come back - Frida.'"