Walking as Art
Design
Disability Dolls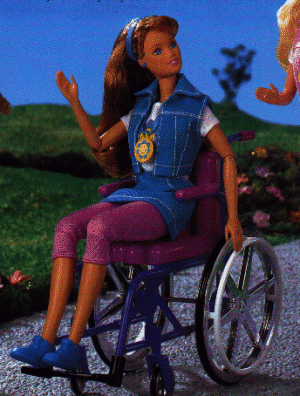 In 1997 toy-maker Mattel hoped its wheelchair version of Barbie, called Becky, would help change attitudes and stereotypes about the disabled, and help children with disabilities build self-esteem. Barbie was introduced in 1959. And Mattel says it's time her family became more inclusive.

"We for quite some time have had ethnic diversity in Barbie's world, but we were overdue in terms of really offering a friend who has a disability," said Nancy Zwiers, senior vice president for marketing.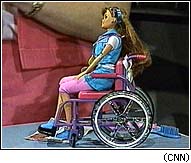 While Mattel is the largest toy-maker to market a disabled doll, it is not alone. Minnesota-based Cultural Toys introduced a rag doll in 1995 in a wheelchair. Pleasant Company, the Wisconsin toy company that makes the American Girl Collection, also has a wheelchair accessory for its line of dolls. Fisher Price makes a toy bus with a wheelchair ramp, and Little Tikes has a dollhouse with a ramp, analysts said.
Some features of Becky may be changed. For now, Becky's wheelchair won't fit in most Barbie houses - even the elevator is too small. And unlike real wheelchairs, Becky's has no seat belt, so she tumbles out easily. Activists would like to see that changed.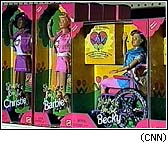 "Everything they can do to promote the whole accessibility of the world, to children, to anyone with a disability, we want," said Patricia McGill Smith of National Parent Network on Disabilities.
Disabled groups don't care if Mattel makes money doing the right thing. They're just happy to see the icon of physical perfection being used to how that disabilities can be beautiful, too.
More recently, dolls with prostheses, Down dolls and Chemo Friends (for children undergoing chemotherapy) have been introduced.
---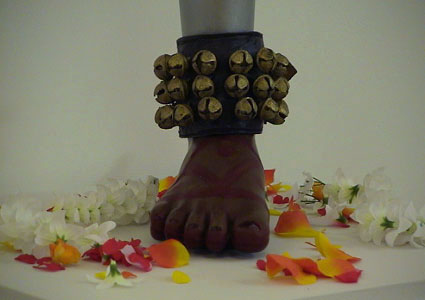 The Jaipur Foot is used by thousands of people in India and Africa. The Jaipur Foot is the result of a collaboration between P.K. Sethi, an orthopaedic surgeon, and Ram Chander Sharma a craftsman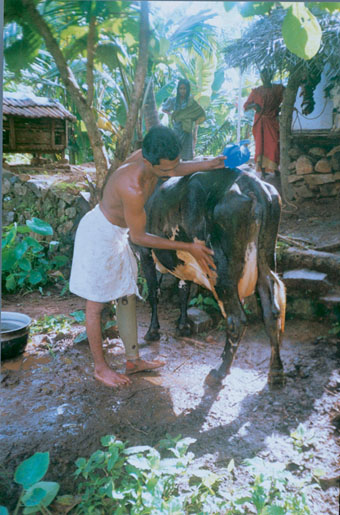 They were concerned that people in India who had been fitted with western style artificial limbs, at great cost to themselves, discarded them so Quickly They realised that this type of prosthesis is not suitable for floor sitting barefoot walking Indian people.
The Jaipur Foot is waterproof, cheap and looks good. It allows the user to squat and sit cross-legged at floor level. Although the Jaipur Foot was originally conceived as a solution to a local problem, it is now used by many thousands of amputees, both on the Indian subcontinent as well as in landmine countries affected by landmines such as Cambodia and Mozambique.
The photo shows the foot and ankle of the Jaipur leg in close-up. The foot is dark flesh-coloured, while the leg above is silver. The toe nails of the foot have been painted red, and the foot itself has been decorated with red patterns. Around the ankle is a leather ankle bracelet, decorated with a triple row of bells.
In front of the foot, and around the podium where the Jaipur limb is displayed, artificial flowers are scattered. Within the exhibition, this reflects the fact that a video about the Jaipur Limb Campaign is
playing nearby, featuring a dancer who performs Indian classical dance while wearing a similar limb
---
Felicity Shillingford: My Left Boot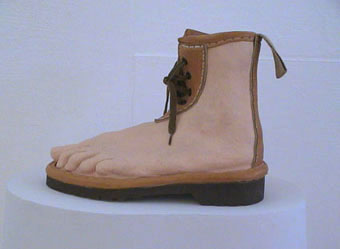 Felicity works in visual art, film and theatre, with actor/director Garry Robson, producing for their company, 'Fittings Multimedia Arts'. They make aids and adaptations used by an ever increasing number of people
in their daily lives.
Felicity and Garry first started looking at the design of disability equipment for their touring exhibition 'Fittings: The Last Freakshow' which was part exhibition and part performance.

---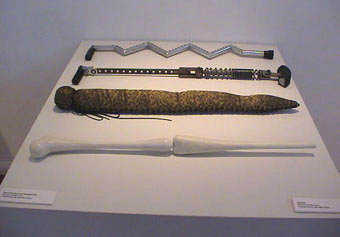 Paul is based in Bath and works for a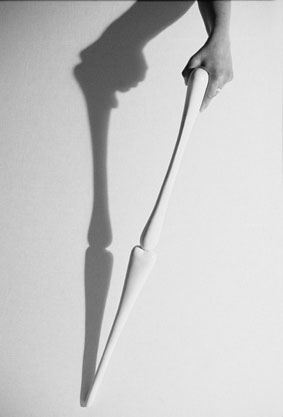 company that manufactures rickshaws, such as the pollution-free taxi type and custom built bikes used for street theatre and performance.
---

Pro-Carbon Crutches were inspired by Guy Robinson's first hand experience of trying to lead an active life whilst using crutches.

The design places crutches within the world of sport. Pro-Carbon Crutches not only look good, they also work to reduce sports injuries
that might otherwise be inflicted by conventionally designed crutches. They are made from silver and grey carbon. Unlike conventional crutches, they curve backwards rather than being straight. They have silver lower-arm supports which are made of fabric mesh, and grey hand supports where the user puts their whole hand through the support and then grips a surface which has been shaped to fit fingers. The feet are sprung, and resemble the hooves of animals such as gazelles. Within the exhibition the crutches are pictured, as only one prototype exists.

Sprung feet absorb impact, whilst the handles support central parts of the hand that are sensitive to nerve damage. The forearm support is a fabric mesh, that moulds itself to the forearm, and comfortably distributes the load.

Guy is continuing his research on Pro-Carbon Crutches and on other prototypes at the Royal College of Art. His crutches won the care award in 'Design for Our Future Selves' competition, 2002.
---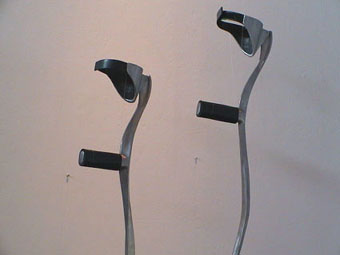 Janie uses callipers and crutches to walk. In May 2000 Tim and Janie were invited to redesign a pair of her crutches, placing greater emphasis on individuality. Janie has always used mass produced crutches, which she describes as "boring and ugly" and has been frustrated by lack of choice and by the assumption that "one design will suit everyone".

Tim and Janie wanted the design to reflect Janie's personality, and to create crutches that could be used as a form of adornment. Janie wanted to be able to show off her crutches, and wear them in a night club like a piece of jewellery. The Couture Crutches are shaped from silver aluminium, with black rubber handgrips and black shoulder supports. Rather than being straight, they curve inwards between the shoulder supports and the hand supports, before curving outwards and then in again at the feet. They are very elegant.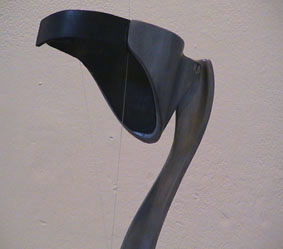 Tim wanted to explore the fluid, twisting shapes found in human bones. The shapes he created are both bold and engaging, and suggests that the crutches form an extension of the skeleton. After consulting with Janie on the final design, Tim cast the crutches into aluminium. Of her finished crutches Janie says; "they are very sculptural, organic, eye catching, and most importantly, unique, having a personality of their own, a very far cry from my NHS crutches!"
Tim Register graduated in Fine Art (Sculpture) from Loughborough University Janie Spencer is a part time art tutor, and artist based in Leicester. She graduated in Fine Art from De Montfort University.
---
Nicola Lane's installation explores how people see prosthetics both in the past and currently. In her installation she brings together modern prosthetics and both historical and contemporary photographs.

Nicola examines the past lives of prosthetic users by creating a sequence of images, Edwardian photographs from the Science Museum Collection which have been altered on a computer, to remove the prosthetic limb. The series of images on the opposite wall show the absent prosthetic limbs. Nicola makes us think about how the photographer saw these people, how they saw themselves and how the rest of society saw these individuals.

Nicola arranged for filmmaker Tony Dowmunt to film our visit, and prosthetist Ozan Altay also came. In the ScienceMu seum's stores is their 'Orthopaedic Collection', and with an amazing variety of prostheses, including Pre-N.H.S. bespoke individualised limbs, N.H.S. experiments in electronically powered limbs for Thalidomide children; 19th Century articulated steel and brass, and best of all, a collection of
photographs, taken by an Edwardian prosthetist/orthotist of his clients wearing their appliances, estimated to be in 1906, and all appear (with one or two exceptions) to have been photographed in the same room, with a painted backdrop and a patterned floor. In the installation, though, these aids have been digitally removed from the photographs, leaving behind their shape in grey. Another series of seven posters shows the aids themselves, pictured against a grey background.

The second part of the installation consists of a series of four poster-sized photographs. Each shows an historical artificial limb, made between the eighteenth and early twentieth century, photographed against a brightly coloured background. The silicon leg covers used in the installation are designed to look as real as science allows. Again Nicola is concerned about the gap between appearances and how things really are. These leg covers are just for appearance, and do not function as real prosthetics.

Nicola does not believe that cosmesis, the appearance of prosthetics should be separated from the function of a prosthetic. She believes that alternatives such as the Jaipur foot are more truly inclusive for the user. They represent function as cosmesis.

By emphasising function, comfort and ease of use, Nicola claims that cosmesis should be about how the user feels about their prosthetic. Not how the viewer feels looking at it. By separating the prosthetics from the figures, Nicola is inviting the viewer to imagine what prosthetic they would like to wear.
---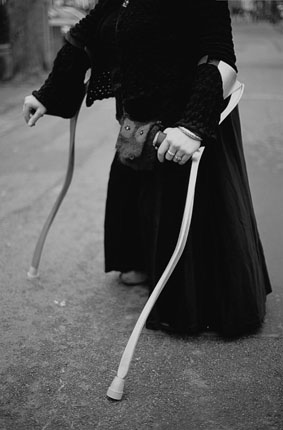 Aesthetics and design never seem to be where disabled people want them in the list of priorities. In architecture and building design, aesthetics so often override function that access usually gets created as an afterthought, bolted on against the disapproval of the style-driven architects. Disabled people in public buildings curse and battle against slippery floors, cavernous acoustics, weighty doors and perspex signposts – designed for aesthetics, not for function.
Yet when it comes to the everyday items which disabled people must have, their clothes, homeware and mobility aids, the exact opposite seems to apply. We are provided with items that can be easily mass-produced, cleaned or stacked in a cupboard by a nurse or carer, and not what we would choose to wear or carry.
Aluminium, rubber and a curious bakelite plastic in grey or flesh-tones are the materials we get handed. The welter of colour, choice and subliminal pressure applied to the consumer in every other case passes us by.
The message we get is clear – design is not for us. Concepts like opinion, taste, choice, pleasure and excitement are absent in the provision made for what we need. A direct opposition is set up between the ideas of "need" and "want". It is a moral lesson – beggars can't be choosers, and disabled people are very evidently cast in the role of beggar.
It wasn't always so. Social history collections in museums show us that the moneyed disabled person used to be able to commission craftworks that served their needs – exquisitely carved wheeled chairs, the candy-twists of Venetian glass walking canes, hand-embroidered waistcoats which disguised the bodies of rich men with spinal curvature. Even if you weren't rich, before mass-production became ordinary, it would not have been so difficult to make a jacket that fitted
short arms, or a missing limb. Your one pair of boots would have been made for you, your chair the height you needed to reach the
table.
Disabled people were the cast-offs after standardisation in the 20th century, when difference became bad, and average a word of
approval. Manual crafts and personalisation were marginalised in favour of the 'one-size-fits-all' lie. Ergonomics invented an
acceptable range of difference around the design of cars, cookers and school desks, and within which short, fat or one-legged people
didn't fit. It's considered shocking in this context to claim that normality is, in fact, an exception – that most of us are abnormal.
Not far beneath the surface of each collaboration in this exhibition lie the ghosts of a more responsive past – 500 workmen bending
over wooden benches in a limb-fitting centre, the secret clay pigments of the Arizona desert which created flesh-toned prostheses,
walking sticks which contained brandy for tedious social events or poisoned darts for your enemies. The artists, makers and
designers involved in adorn, equip have come to see disabled people as personalities and tried to serve them in a way which
creates not just comfort but the thrill of ownership, fun and status. What's new for the 21st Century is the acknowledgment of
feelings – of fear and challenge, insecurity and isolation – which can be addressed with accessories and aids which are desirable
and worth showing off. Their solutions might not fit in every household – but that's part of the point. What they offer is an answer
which suits individuals with specific combinations of need, choice, want and taste – because, guess what? All of these consumer
desires exist in every disabled person who wants to adorn or equip themselves.

---
Go Go Gadget Wheelchair: Fit, Form and Desire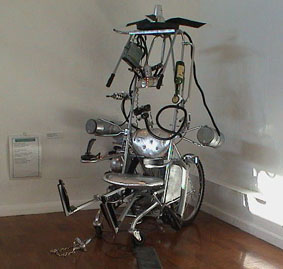 The Go Go Gadget Wheelchair is silver and imposing and
cannot be ignored: its user will always be visible, however hard passers-by try to ignore them - particularly given the flashing hazard
lights. And if onlookers are abusive, there is always the boxing glove on a
spring, or in extreme cases, the rocket which is mounted on the side. Or
the user can ignore them and choose instead to turn on the radio, use the
camera or simply have a drink of whisky.

Mountain bike wheels state that the user intends to go everywhere,
without restraint, and a helicopter-like propeller shows how this will be
managed in the face of obstructions like steps and kerbs. The speed of
the chair is unhampered by social workers' fears that disabled people
will run riot and cause accidents if we travel at more than five miles an
hour: aircraft engines are mounted on each side of the chair, while a
platform at the back allows a companion to ride along when they are
unable to keep up on foot. A grappling hook can be thrown out
anchor-like to stop the chair, or to retrieve objects that are otherwise
inaccessible.

And the user of such a chair can only be a superhero - not invisible and
denied full civil and human rights, "bravely" negotiating a disabling
world, as wheelchair users in this country are today. In real life, though,
disabled people do not want to seen as heroic - just as being "normal",
with it being normal to include us fully in every part of life, and to create
an environment which allows for this.

How can a wheelchair be an object of desire? It is more commonly portrayed as an object of horror and disgust, and the need to use it as a tragedy. We all recognise the newly disabled character in film and television - generally played by a non-disabled actor - who detests their wheelchair and wants nothing more than to
get out of it, sometimes choosing to die instead if this is not a possibility.

The language that we use to refer to wheelchair users is equally
unhelpful. Non-disabled people talk of someone "being in a wheelchair
for 15 years" - as if wheelchair users do not leave their chairs every day
to sleep, bathe, use the toilet, drive, or just to join the rest of the family
on the settee in front of the television in the evening. And non-disabled
people frequently refer to full-time wheelchair users (one in twenty of all
wheelchair users) as being "confined" to their wheelchairs, as if the chair
is an object of imprisonment rather than of liberation.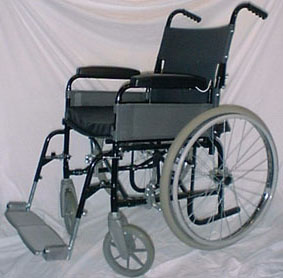 Of course, many of the wheelchairs supplied to disabled people by the
State in the form of social services or the NHS are disabling in
themselves: these chairs are often badly designed, ugly, uncomfortable,
and difficult or impossible to use independently. My own NHS
"self-propelling" wheelchair was difficult for anyone to lift into a
car, increased my pain levels because it provided no proper spinal
support for me, and was in fact to heavy to propel independently. Who
indeed would welcome one of these into their lives?
But when a wheelchair does fit us, when its form does suit us, when its
design does meet fully with our desires, then it is the most liberating,
desirable means of transport for people with mobility impairments of
every kind. Suddenly we can sit comfortably and move wherever we
wish for as long as we wish at the touch of a button or the flick of a
wheel: we are free.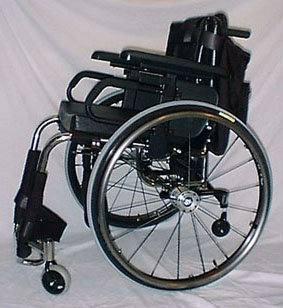 The new self-propelling wheelchair, made by RGK and supplied by the Wheelchair Warehouse, is a genuine object of desire. Manufactured largely from titanium and leather, it was custom-made. But its purchase was made possible only by the Government's Access to Work Scheme - desirable wheelchairs which empower our independence are expensive, while disabled people have the lowest incomes of anyone in the country. Despite the language of "social inclusion", desirable wheelchairs are not considered to be necessary for us to live independently, only to work.
Equally, the popular image of the wheelchair prevails, and as a result,
many people who would benefit from using a wheelchair either refuse,
or are refused permission, to do so. The goal is to appear "normal" -
without impairments - as if having a mobility impairment is not normal,
and as if we will not all have impairments of some kind over the course
of our lifetimes. Thus people who have great difficulty in walking are still
denied or deny themselves access to wheelchairs, and have far narrower,
harder lives as a result.
This attitude is propagated at the highest levels of our society. The Pope
and the Queen Mother, both old enough to know better, refused to be
seen in public using wheelchairs, preferring to be be viewed as immobile
and dependent. Perhaps it is unsurprising, then, that so many other older
people within our society are leading restricted and difficult lives rather
than use a wheelchair. Meanwhile physiotherapists continue to teach
disabled people that wheelchair use is a sign of failure, to be avoided if at
all possible even if the alternative is pain and immobility.
The irony, of course, is that many non-disabled people in the United
Kingdom rarely walk at all - they sit down and drive their children to
school; they sit down and drive to the shops; they sit down and drive to
work; they sit down and drive to see their friends - even when all of
these activities take place within five miles of their homes. And then they
come home and sit down in front of the television until it is time to go to
bed. That would have been unthinkable in this country during the first
half of the twentieth century, and remains unthinkable in many countries
worldwide today.
And yet, despite the billions of pounds which are spent on roads to
facilitate the use of private cars, and the massive changes to the
environment that this causes, no one questions this as being "normal". It
is both "normal" to walk, and at the same time it is "normal" for those
who can walk to choose NOT to walk. Indeed, it is desirable not to walk
if you CAN walk easily: a car signifies status and power; while walking
signifies poverty.
If someone needs to use a wheelchair in order to live their life as fully as
possible, though, everything changes. It is "normal" to build roads, and
then to install speed humps, but it is not regarded as "normal" to create
regular dropped kerbs to allow wheelchair users, parents with buggies
etc to cross those roads easily. It is "normal" to build steps rather than
ramps; it is not regarded as "normal" to install lifts instead of or as well
as staircases. In fact, it is "normal" to make the built environment
difficult or impossible for all of us to access at some point in our lives, as
if we only deserve to participate fully in society when we can walk (even
if we normally choose to drive instead).

---
Convertible High Heels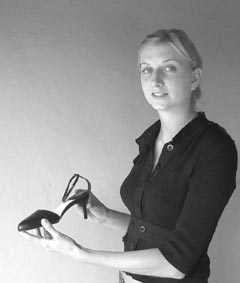 High heels are the only acceptable form of shoe for females on a formal occasion, and are almost mandatory in a business power dressing, yet they are very uncomfortable and casue long term health issues. How many times have you seen women walking to work in sensible shoees carrying high heels in their handbag? A new design for adjustable high heels could solve the problem. This shoe solution converts a high 7 cm heel to a low 3 cm heel with one simple twist on/off action.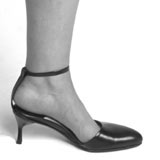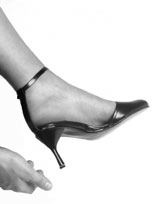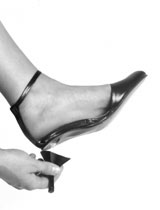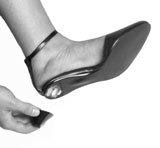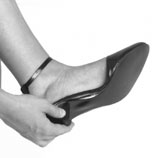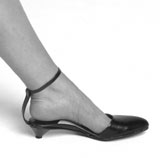 North Sydney UTS student Sophie Cox's idea came to her when she wrote a Research Dissertation Paper for her university of technology Studies in 2003 on the subject of the physical effects of high heels on women. The concept of the CONVERTIBLES (Adjustable High Heels) came from researching the paper.
"I was horrified when I looked into the physical problems which high heels cause in women. In many ways, it is a modern western form of the Japanese foot-binding, where a social or cultural tradition creates long term health problems."
"It's unfortunate, but high-heeled footwear creates prolonged problems for wearer's feet, back and knees.
"On the other hand, high heels now play a very complex role in modern society and have become the only shoe accepted for women on formal occasions and the shoe of choice for women in business when they're in 'power dressing' mode."
"There's no question that when you put on a set of heels, you feel great. It's a psychological thing, but when you're working long hours in an office, you need comfortable attire. So sometimes, say, several times a day, you want your full high heels, and the rest of the time you want comfortable shoes.
The design of the heels flowed from there but it's always been a subject close to Sophie's heart. As I went through school, I was never quite sure where I would end up – I wanted at different times to go into fashion, sculpture and I've always had a thing about shoes, and when it came time to specialise, I thought that the ralm of industrial design gave me the opportunity to express it all.

---
Bernard Rudofsky: Unfashionable Human Body
Trousers shape the leg so it appears as a tubular appendage. Author Bernard Rudofsky writes this about the trouser: "The trinity of thigh, knee and calf, each marvelously molded and replete with eye and sex appeal, is stuck into a cylinder . . . but fails to do justice to a live one."
---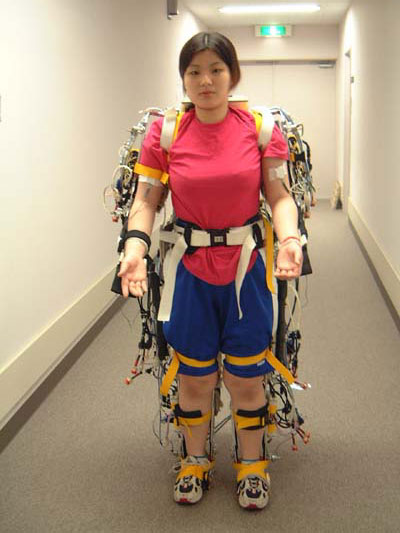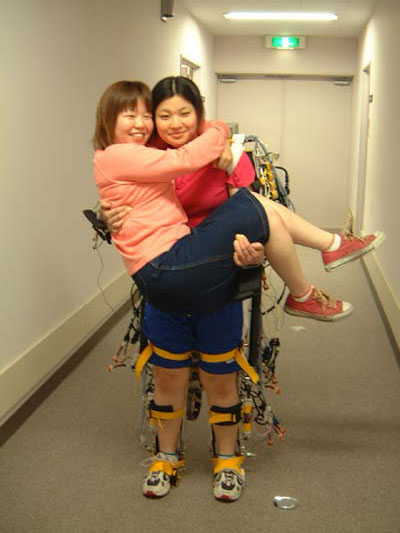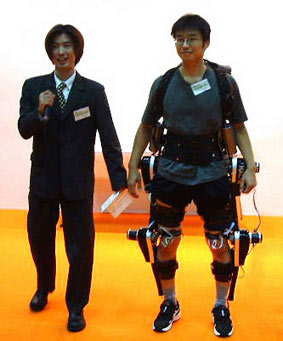 The Power Assist Suit was developed at Kanagawa to aid nurses in lifting immobile patients. Electronic sensors monitor the user's muscles and trigger the hydraulically operated suit to boost strength by more than 50%. The aging world population is seen as an affluent target market for carer and helper robotic applications.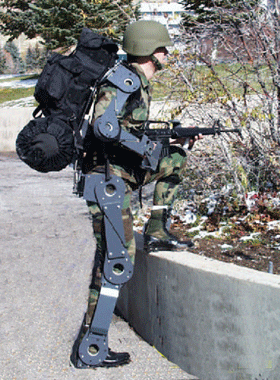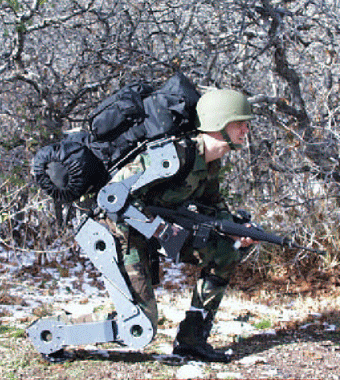 In a push to turn the science fiction of exoskeletons - like the one used by Sigourney Weaver in
Aliens - into a military reality and deliver the advantages of such technology to soldiers in combat
environments, the US Defense Advanced Research Projects Agency (DARPA), is funding a
US$50 million project known as "Exoskeletons for Human Performance Augmentation". The
scope of the program includes the development of actively controlled exoskeletons that not only
increase strength and speed, but enable larger weapons to be carried, provide a higher level of
protection from enemy fire or chemical attack, allow wearers to stay active longer and carry
more food, ammunition and field supplies. Exoskeletons may eventually even be programmed to
bring injured soldiers back to base by themselves. Systems will range from un-powered
mechanical devices that assist a particular aspect of human function to fully-mechanised
exoskeletons relying on chemical or hydrocarbon fuels for totally independent operation by
soldiers in the field.

Several different projects under the DARPA umbrella are underway including SARCOS
Research Corporation's Wearable Energetically Autonomous Robots (WEAR). Designed for
on-foot combat, WEAR will include a base unit configured like legs, torso and arms that mimic
human movement using complex kinematic systems and contain energy storage, power systems,
actuators and everything needed for an autonomous wearable system. ASP's
(Application-Specific Packages) will provide additional protection against specific threats like
radiation and biological agents or give expanded functionality for communications, surveillance or
night operations. SARCOS is on track to have a legs only version of the exoskeleton ready for
trial by 2003 and a working full-body prototype is expected around 2005.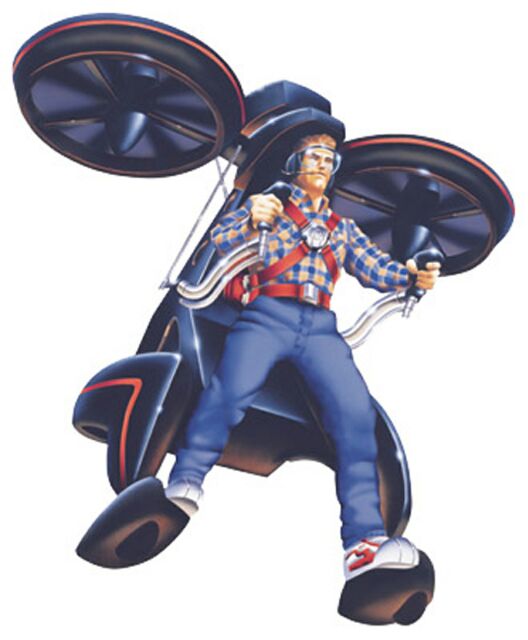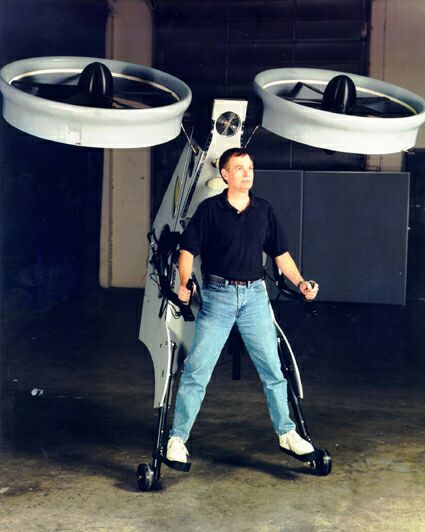 The problems of actuation, power supply and energy storage are being tacked on several fronts
with M-DOT Aerospace working on a META (Mesoscopic Turboalternator) engine capable of
acting as a viable electric power source for human exoskeletons and Quoin International
developing a unique power supply and actuation system for anthropomorphic exoskeletons using
hydrocarbon fuels and high-pressure pneumatic systems to mimic human movement.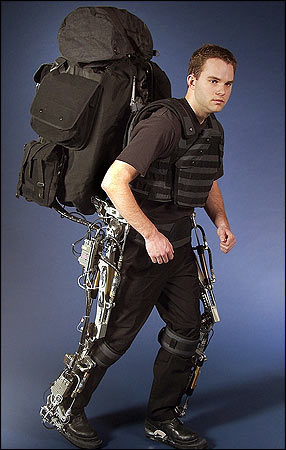 The Berkeley Lower Extremity Exoskeleton, or Bleex, is part of a US defence project designed to be used mainly by infantry soldiers.
The device consists of a pair of mechanical metal leg braces including a power unit and a backpack-like frame.
More than 40 sensors and hydraulic mechanisms calculate how to distribute weight just like the nervous system.
These help minimise the load for the wearer.
A large rucksack carried on the back contains an engine, control system and space for a payload.
"There is no joystick, no keyboard, no push button to drive the device," said Homayoon Kazerooni, director of the Robotics and Human Engineering Laboratory at the University of California.
The Bleex exoskeleton has a small, purpose-built combustion engine built into it. On a full tank the system should be able to run for up to two hours.
The device's leg braces are attached to a modified pair of army boots and connected to the user's legs.
In the lab, subjects have walked around in the 45kg (100lbs) exoskeleton plus a 31.5kg (70lbs) backpack and reported that it felt like they were carrying little over 2kg (5lbs).
"The design of this exoskeleton really benefits from human intellect and the strength of the machine," said Dr Kazerooni.
The project has been funded by the US Defense Advanced Research Projects Agency (Darpa).
---
1 kW/leg Servo Assist

---
---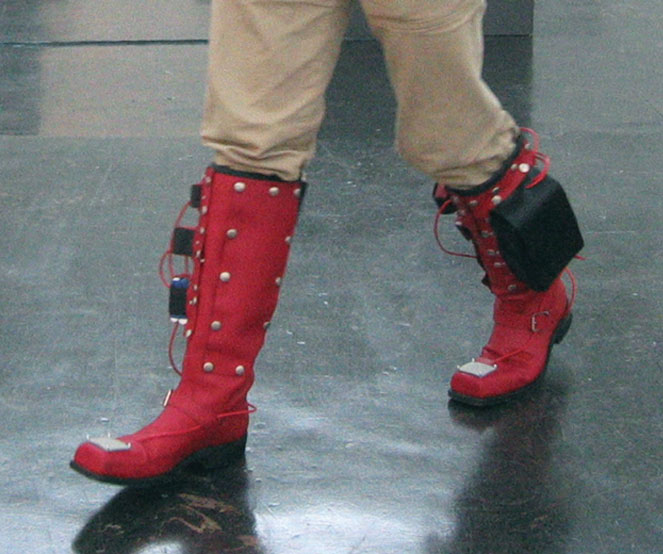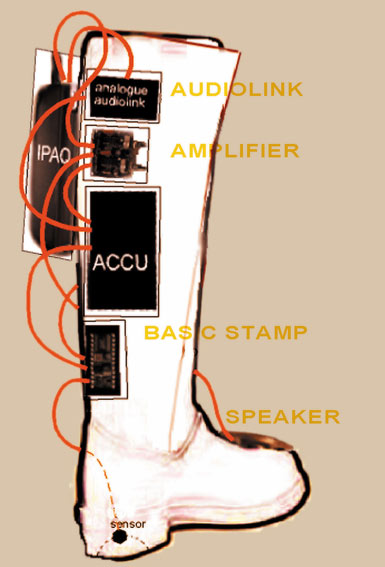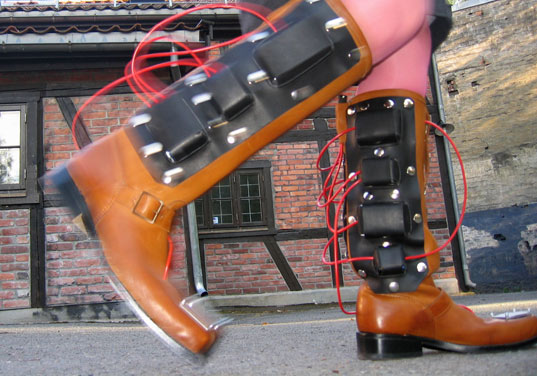 Sitting somewhere between performance and experiential art, Seven Mile Boots are interactive shoes with audio. One can wear the boots, and walk around simultaneousy in the physical world and in the literal world of the internet. By walking in the physical world one may suddenly encounter a group of people chatting in real time in the virtual world. The chats are heard as a spoken text coming from the boots. The concept is that whenever you wear the boots, the physical and the virtual worlds will merge together. The seven-mile-boots are intended as an interface to move within this text-based non-space of the chatrooms. The boots have two different modes; walking through the net and standing/ listening/ observing the chat-activity.
When walking, the boots seek a new selection of channels from the net. The boots contain all the necessary technology and the user does not control or influence the experience - there's a computer with wireless network, sensors, amplifiers and loudspeakers. The boots are ready to function in any location with an open wireless network, though poresumably you'll need some sort of filter for public places where the chat room contents may not be suitable to be read aloud by your boots in a public place. The boots are intended to shift the viewpoint from the physical to the conceptual, focusing on the ordinary everyday activities and desires of people and offer a perspective into the processes, which are an inherent part of our current lifestyle.
When the user is wearing the seven-mile-boots and standing still s/he can listen several chat rooms simultaneously becoming a super-voyeur, and able to search in several places and observe various situations simultaneously in the net. After putting on the boots they start looking for active chat channels. When the user walks around s/he can locate a chat activity through audio. S/he will hear himself passing through a group of chatters or s/he can decide to stop for closer observation. The boots log into the chat rooms automatically under the name of "sevenmileboots".

---
Maxwell Smart's Shoe Phone (Get Smart)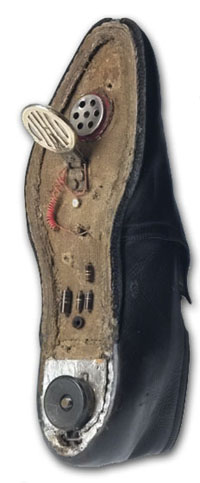 Operator: "What number are you calling?"
Smart: "I'm calling Control, Operator…"
Operator: "You have dialed incorrectly. Give
me your name and address and your dime will
be refunded."
Smart: "Operator, I'm calling from my shoe!"
Operator: "What is the number of your shoe?"
Smart: "It's an unlisted shoe, Operator!"

Maxwell Smart, Agent 86 of Control, cleverly housed a telephone in his shoe. As used for five seasons by Don Adams in the Emmy-winning comedy series, the Shoe Phone has earned a permanent place in our memories, our hearts, and especially our funny bones, as a classic icon of popular culture.
---
CIA Spy Shoe with Heel Transmitter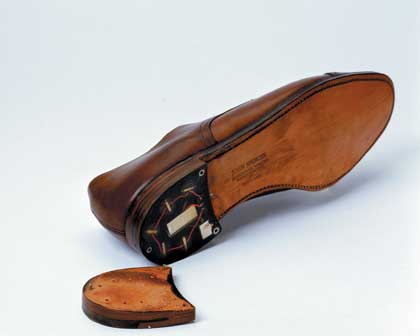 Looking like a quirky prop from Get Smart, the 1960's KGB issue Spy Shoe with a radio transmitter concealed in the heel was used to monitor secret conversations. The shoe's transmitter, microphone, and batteries were imbedded in the heel of a target's shoe. A maid or valet with access to the individual's clothing would be given the job of planting the rigged shoes and activating the transmitter by pulling out a white pin from the heel. The target would then become a walking radio station, transmitting all conversations to a nearby monitoring post.
---
Escape Boots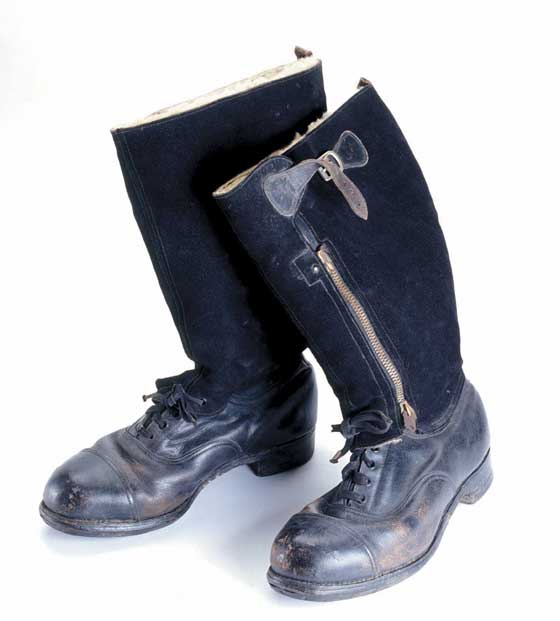 These English MI9 issue boots were designed for British pilots trying to escape detection in enemy territory. A small pen-knife concealed in the boots was used to cut off the tops so that they looked like civilian walking shoes rather than easily recognisable "flying boots".

---
Wenzhou, Shoe and Sock-making Capital of China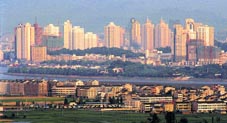 As far back as the Southern Song Dynasty
(1127-1279) there were professional shoe-makers in
Lucheng. Wenzhou is where China's first pigskin,
sulfide leather, and molded leather shoes were made.
Among China's six most famous brands of shoes, three
-- Kangnai, Dongyi and Jierda -- are from Lucheng. As
Wenzhou's pillar industry, the shoe-making sector
encompasses over 4,000 enterprises, yielding an annual
output value of 30 billion yuan, and an export value of 6
billion yuan. Wenzhou indubitably leads China's
shoe-making industry.

On Woqi Mountain by the Oujiang River in Wenzhou stands the city's landmark building --
China Shoe Capital Culture Museum. The first modern shoe museum in the country, it houses
more than 2,000 exhibits dating from Neolithic to modern times, and includes many rare items.

The Shoe Capital Industrial Park, currently under construction, is the future site of Wenzhou's
largest and most well reputed shoe-making enterprises. Occupying an area of 6.5 square
kilometers, scientific research, trading, information exchange and manufacture are to be
conducted at this large shoe production base. It is expected to become the world's largest
shoe-making center.

As the local leather-shoe-making sector flagship, Kangnai has set up 33 outlets in Europe and
North America, and has registered its trademark in 36 countries and regions. In order to make
itself an international brand Kangnai employs Italian shoe designers.

---
Pop culture seems to share this shoe fetish; rappers in particular are calling a lot of attention to
their footwear. Reebok has recruited all the top urban icons as pitchmen: Jay-Z has the S.
Carter line; 50 Cent has the G-Unit; Pharrell Williams has just released the Ice Cream collection.
Nelly has a song solely dedicated to hyping Nike's Air Force Ones. There's even been a rash of
books published on the subject, including DJ Bobbito's Where'd You Get Those? New York City's
Sneaker Culture: 1960-1987 (Powerhouse Books, 2003). How did gym shoes get to be so huge?
Where is this widespread obsession with sneakers coming from?

At the Vancouver International Hip-Hop Film Festival this September, one documentary,
Sneakers, offered some insight. Netherlands director Femke Wolting tracked the progression of
the sneaker from functional sportswear to a marker of cultural identity. He interviewed shoe
historian Scoop Jackson, who believes that American ghettos inspired the global sneaker
explosion. Young black men in the inner city experienced low employment rates and had little
spending money, Jackson argues. With no jobs to dress up for and limited funds, they made
cheap basketball shoes like Converse the footwear of choice.

As time went on, running shoes became a status symbol. Sporting brand-new designer kicks
demonstrated that one was moving up; conspicuous consumerism was a way of asserting
identity in the face of harsh economic and social realities. When hip-hop artists exploded onto
the international stage, they transformed sneakers into high fashion. The track "My Adidas", for
instance, saw Run-DMC popularize 'hood style and skyrocket sales for the shell-toed shoe. When
Michael Jordan teamed up with Nike for the Air Jordan, sneaker culture hit the mainstream in a
big way. The shoe was so highly anticipated that it had a release date, just like an album.

Nowadays, sneaker enthusiasts all over the world have massive collections that keep eBay in
business. A select group of Vancouver hip-hop heads has always been up on kicks, but the
sneaker-freak culture here is growing exponentially, and a new store has recently opened in
Gastown to serve this demographic.

Livestock (239 Abbott Street) is the brainchild of Garret Louie (aka G-Man), urban music
promoter, DJ, and long-time sneaker collector. Louie's day job is co-owner of Timebomb Trading,
a skateboard, snowboard, and streetwear distribution company. Over the past 15 years, he has
travelled extensively for work, hitting major sneaker spots in Japan, New York, Los Angeles, and
London, and picking up hundreds of pairs along the way. Louie decided this year that Van City
was ready for a serious sneaker boutique. He teamed up with Kenta Kimura, Garry Bone, and
Robert Rizk to open Livestock, which is one of a handful of stores in North America that carries
such desirable, collectible sneakers.

Deadstock is a term for shoes that have never been worn and that are still in the box with their
original laces. These shoes are the most valuable to collectors. Louie and company decided that
they wanted to emphasize enjoyment. "We said, 'Screw keeping them in the box, even though
they could be worth $500 down the road,' " he explains, interviewed recently at the shop. "We
said, 'Let's call it Livestock. Let's wear the shoes: skateboard in them, b-boy in them, wear them
to the club.' "

The store is beautifully designed, with a minimalist modern vibe. Dozens of carefully selected
shoes line the walls. (Prices range from $60 to $300.) Louie walks me around, pointing out
favourites and imparting design and history tips. Many of the shoes are packaged in bundles: a
baseball pack has soft glove leather; a World Cup soccer pack features the colours of national
flags; a Navigation pack has maps of the big sneaker collecting cities laser cut onto leather
panels. One of the hot lines right now is Japanese designer Nigo's Bathing Ape brand.

The store balances its stock between rare finds and more traditional fare. It focuses on
expanding the culture through sponsoring hip-hop shows and art events, and encouraging
budding sneaker heads. "We don't want to be that shop that cops an attitude that's too cool for
school," Louie says. "Everyone was starting in this culture at one time. We're totally cool with
educating people."
---