Case of the week - 4/8/97
from Univ. Clinic for Physical Medicine & Rehabiliation, Vienna General Hospital
63 yo patient post pelvic surgery for bone-graft purposes.
A 5 cm high and 9 cm long section of the right iliac crest and attached soft tissue was excised via an incision through the gluteus medius and abdominal musculature. These muscles were then reattached: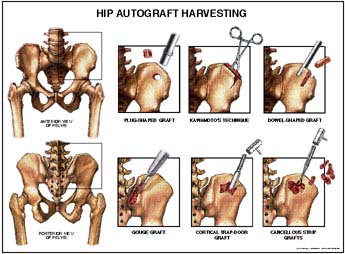 from Hip Bone Graft Harvest
Gait analysis performed two years following surgery.
Quicktime movies (get the plug-ins here for Windows 95/NT and 3.1)

sagittal plane movie, left side
sagittal plane movie, right side
frontal plane movie
3D Gait Analysis Results (Motion Analysis Corp.)
Trunk Kinematics

Joint Kinematics
Joint Kinetics

Range Of Motion was normal at the hip, knee and ankle joints.
... points for discussion:
What do you think is the main problem?
Why does the operated side always lead the normal side throughout the gait cycle.
What treatment would you advise?
Are autogenous bone grafts still necessary? (article by Dempsey S. Springfield, MD)


---

Case supplied by Mag. Andreas Kranzl and Dr. Andreas Kopf


Email your comments to [n/a]

---

Maintained by DDr. Chris Kirtley, Andreas Kranzl & Dr. Andreas Kopf
Last modified on Friday, 4-Aug-97.

Back to Clinical Gait Analysis home page